Choosing your venue is your most important decision in the planning process. It will set your date, aesthetic, budget, guest size, everything! Like buying a house, you should visit multiple venues to make sure you find the perfect fit for your style and wedding plans.
Venues book up very quickly, sometimes a year in advance, so if you have a specific date in mind there's no time to waste. Doing venue tours should be one of your first big tasks after you get engaged.
When you visit a venue keep in mind the flow of guests from ceremony to cocktails to the reception. Is there ample space inside in case of bad weather? Will all your guests fit comfortably and be able to see your pretty faces from their table? Will the rental fee eat way too much of your budget? There are so many important aspects to think about so use the questions to prompt your conversations during the tour.
– Liz Ise (Destination Wedding Planner)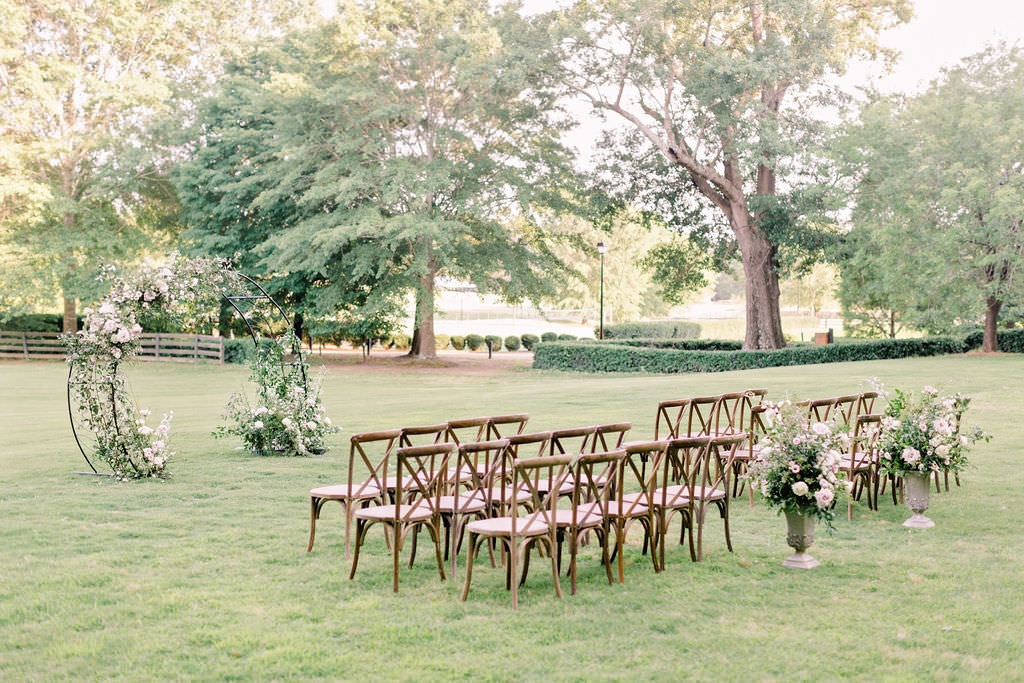 Lucky for our readers, we've created a download with all of the questions you need to ask at your venue tour and more.  Click the button below, to snag your copy today.
When choosing a venue, I always tell my couples that the #1 thing they should look for is the feeling of comfort. This can pertain to "flow" of the event, budgetary comfort, or just that *feeling* they get when they're in the space. It's important to have your venue feel just as special to you as anything – that's place you will remember forever! Also, keep in mind if other vendors are extremely important to you. If they are, make sure they are on the venue's approved list OR that the venue has an open vendor policy. This is huge!  
– Ashley Bourque (Chancey Charm Nashville)
Before touring venues, I highly recommend thinking about the ideal space you'd like to use for getting ready. Asking about the types of spaces your venue has to offer will determine whether or not you're able to get ready on-site or if you should make plans to get ready elsewhere. While some prefer the convenience of an onsite bridal suite, a chic nearby hotel with ample space might be the better option for you! If you're able to get ready on-site, make sure to find out what time the venue allows for you to start using their space. That way your timeline for hair, makeup, and photos aligns with the hours your venue's allotted. Even though it's easy to focus on the hours you'll be saying "I do!" and dancing, a large portion of your day will be spent getting ready with your best friends and family prior to your evening ceremony. Not to mention, a bulk of your photos will consist of the intimate pre-wedding moments like zipping up your wedding dress or laughing with your girls, so you'll likely thank yourself later for thinking ahead about securing a photogenic space. But if the perfect venue doesn't have a bridal suite– no sweat! You have plenty of other options. A hotel room, an Airbnb, or even the home of a friend or relative makes for a great getting ready setting.  Lastly, don't forget the bubbly and food! Hunger doesn't look good on your friends or you, especially on your wedding day!
We're Rooting For You Friend,
SNAG OUR FREE WEDDING CHECKLIST